#clashon #clashofclans @ChampmanGaming1 #th13 #cocupdate #newtroop
On the fifth day of Clashmas, Supercell gave to us… The Yeti and his cuddly, furry buddies The Yetimites!
The Yeti!
This Christmas Update brings us the new troop: The Yeti! The Yeti unlocks at Town Hall 12 when you upgrade your barracks to Level 14. This new troop is absolutely adorable looking. However, you should not be fooled by his furry cuddlesomeness, as his paws packs a mighty punch. While he is approaching his target he carries a basket of Yetimites on his back. These cute, purple furballs hop out when the Yeti takes damage to assist him by targeting defenses. The remaining Yetimites will break free when the Yeti's Hit Points reaches zero, hop over walls, swarming the enemy's defenses and wreaking havoc.
The Yeti is awesome! We already love him. It feels to us as if he is an offspring of the Golem and Bowler. While the Yeti targets any ground and does damage to a single target, the Yetimites will give your enemy a terrible headache, targeting and dealing 4x damage to air and ground defenses. Clearing the path with their splash damage for more Yeti's to break through.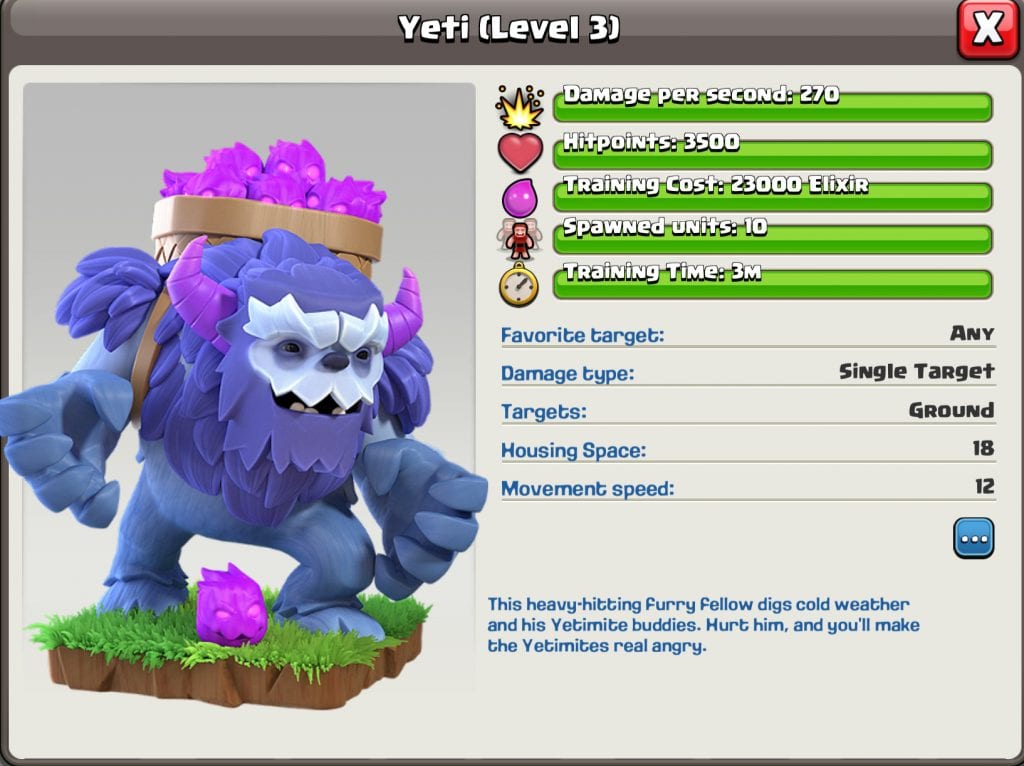 Sneak Peeks revealed thus far
As Town Hall 13 draws nearer, Clash of Clans is spoiling us daily with sneak peeks. We have seen the Jolly Barbarian King skin, which you can get right now by purchasing the Gold Pass in-game. As we previously reported, this Christmas Update brings us tons of new goodies, a troop – the Yeti, a defense – the Scattershot, a Siege Barracks and a Giga Inferno, this update promises to be epic. We are super excited and cannot wait to see what more surprises is coming our way!
Winterjam is on its last legs, but while it is still on all Home village buildings, traps and walls are on 50% discount. There is still time before the update to treat yourself to the Gold Pass to help you get ready for this special Winter update.
Love what we do? Support us by using the creator code Clash Champs while making in-game purchases.
Happy Clashing!