#clashofclans #clashon @SirMooseGaming
Quick Navigation
There's a new BOSS in town…the Siege Barracks, it's amazing and it's reinventing TH11-TH13 attack strategies. In this Ultimate 3-Star Guide we'll look at the best ways to use your Siege Barracks to smash your opposition = 3 Stars KABOOOOM! Here's the step by step guide on how to use your Siege Barracks to get that 3-Stars!
There are 2 main ways you can utilise this amazing strategy and we'll cover each below. Feel free to use whatever army composition you wish, although so far most attacks use some sort of PEKKA Smash, typically:
5 x Healers / 5 x PEKKA / 10 Bowlers / 1 x Jump Spell / 4 x EQ Spells.
This first strategy is ideally suited to typical War Bases (see image below) with the Town Hall on the edge of the base, these bases should be easy pickings to this strategy. In this example we 3 Star a top war base!
Remember as your siege choice will be the Siege Barracks,you'll need either a Jump Spell or 4 x Earthquake Spells (or both) to break into the base. You'll have to follow these steps before calling in your Siege Barracks.
Yes, it's funnel time, our favorite part of the day! Build your funnel carefully and take your time, if you don't get this right the whole attack might fail. Seriously guys…practice!
Once your funnel is set, we need to get your troops into the base, they won't just float into the base via osmosis,so we need to either use a Jump Spell or 4 x Earthquakes (or both). In this example we use a Jump Spell to gain access to the Town Hall compartment and then 4 x EQ to open up the base (white circle on picture)…KABOOOOOM!
Now is the time! Yes now the funnel is set and we have access to the base it's time to call in the Siege Barracks directly behind the main attack, don't wait too long, you'll want to call in the Siege Barracks as soon as your troops have started pouring into the base.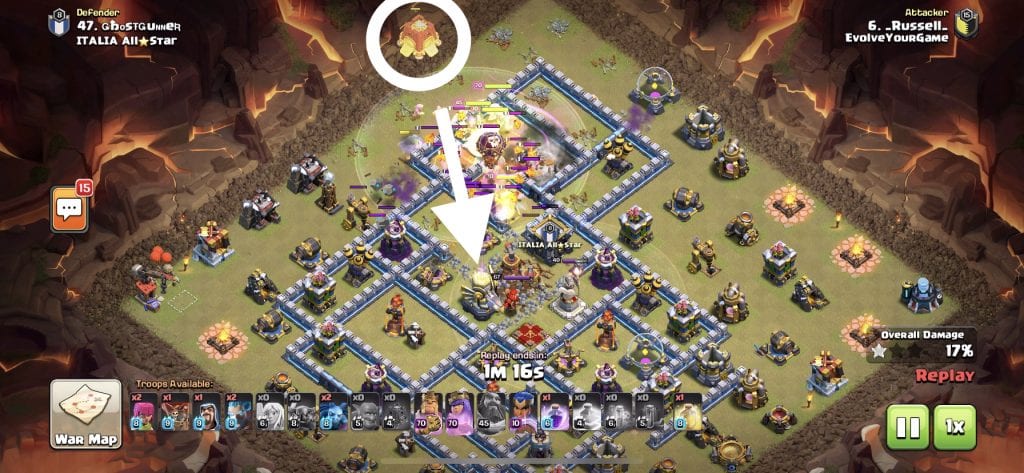 Level 4 Siege Barracks gives you 1 x PEKKA and 12 Wizards…this is HUGE and gives you approximately 25% more troops which is why this attack strategy is crushing TH13! I suggest after reading this article you check out the YouTube link to see top players using this strategy in action.
Watch this strategy in action in the video below.
Next let's look at another amazing way to use the Siege Barracks.
This second strategy is easier to use and supports your attack by taking the hassle out of funneling. Most bases are set up to make funneling a nightmare (see image 5). With the Barracks you'll be able to clear virtually a whole side of the map, it makes things SO much easier!
This step is simple, decide where making a funnel will be of most benefit…in this case we're taking down a Legend League Base with Dragons, so I want to clear one corner enabling the Dragons to stay within the main base. Remember a funnel needs 2 sides! With a PEKKA and 12 Wizards you'll be able to clear a large section of the map don't be afraid to support the Siege Barracks with a Hero or some of your army if required.
That's it…one stage, just make an AWESOME funnel as below and go get those 3 Stars!
Watch this strategy in action below.
Remember to follow Sir Moose Gaming on his YouTube Channel if you'd like to see these awesome attacks and more in action with Sir Moose.
This Siege Barracks 3-Star Guide was written by Sir Moose Gaming
Looking for members, a clan or a base layout? We got you covered! Join in our fun tournaments to earn Champ Bucks to spend in the Rewards Store!
Love what we do? Support us by using creator code CLASH CHAMPS while making any in-game purchases.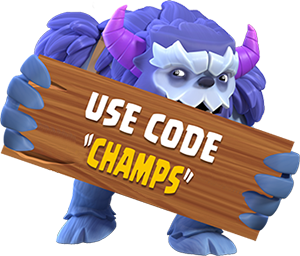 Base Building Guides
◊ Bradder's Th10 BB Guide ◊ Bradder's Th12 BB Guide ◊ Derpy & Scott TH10 BB Guide ◊ Derpy & Scott TH10 BB Guide – German ◊
Buildings
◊ Scattershot ◊ Giga Inferno ◊
Clan Features
◊ The Bilderbergs ◊
Clash Champ Tools
◊ Never be Clanless Again ◊ Base Finder Tool ◊ I need a base update ◊ Never miss war attacks again ◊
E-Sports
◊ Katowice, Poland ◊
General
◊ Becoming a Pro-Gamer ◊ How to be a Great Leader ◊ Staying Motivated ◊
Hero's
◊ Royal Champion ◊
Troops
◊ Yeti ◊ Siege Barracks ◊
Update/Event News
◊ Global Gone◊ CoC Creator Boost ◊ Creator Boost Expires ◊ Jolly Barbarian Skin ◊
Upgrade Priorities / Guides
◊ Any New Town Hall ◊ Town hall 5 ◊ Town hall 6 ◊