#clashon #clashofclans
Clan recruitment is hard, and ever since global has departed looking for players has gotten even harder. We have a solution! Clans using our Recruitment Tool, like the Mutant Tribe, find that looking for players does not have to be so overwhelming.
"Level Up Your War Game"!

Mutant Tribe Motto
Mission
Mutant Tribe is a unified group of mature adult clans, with a focus on having a friendly and thriving community to help each other get better at war. We believe the best way to get better at war is to practice, so we have several clans geared to different levels and phases of play.
Values
1. Participate in wars.
All Mutant Tribe members value participating in war. Moving to an optional-war clan within the Tribe is only done temporarily, while the player upgrades or takes a break.
In required-war clans, members must do both war attacks, following the War Guide. If a member misses (fails to use) one or more war attacks, or does not follow the War Guide, or any specific instructions given by the leaders, they will be kicked from the clan for 24 hours.
2. Communicate on Discord.
Members must frequently read and respond in our Discord server to facilitate communication.
3. Be excellent to each other…
Be kind and humble. Help each other get better at wars. Donate before requesting. Be active and friendly. Act with compassion. Be teachable. Be mature. Follow Clan Member Code of Conduct and Supercell's Safe and Fair Play guidelines.
…and party on!
Have fun. Don't create drama. Be laid-back and easy-going. Celebrate our wins, and treat our losses as opportunities to get better.
How to Join
Find the Clan that fits you best.
Read through our Rules, and take note of the join request passphrase mentioned in the rules.
Join our Discord Server, and follow the instructions given there.
Mutant X — Casual-Competitive War Clan
Mutant Z — Casual / Feeder War Clan
Mutant F — Farming Clan
Mutant 0 — Vacation Clan
Mutant U — Training Clan — Coming Soon
Mutant L — Competitive League War Clan — Coming Soon
---
Looking for members, a clan or a base layout? We got you covered! Join in our fun tournaments to earn Champ Bucks to spend in the Rewards Store!
Join us on Clash School for all your coaching needs, where well known professionals are ready to guide you to be the best that you can be.
Love what we do? Support us by using creator code CLASH CHAMPS while making any in-game purchases.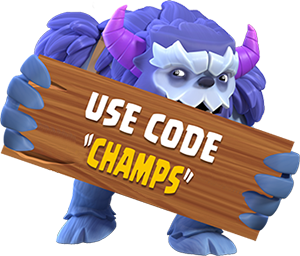 Other Clash Champ Articles You May Like:
Attack Strategy Guides
◊ Siege Barracks: 3-Star Guide ◊ Th9 Queen Charge Lavaloon Guide ◊
Base Building Guides
◊ Bradder's Th10 BB Guide ◊ Bradder's Th12 BB Guide ◊ Derpy & Scott TH10 BB Guide ◊ Derpy & Scott TH10 BB Guide – German ◊
Buildings
◊ Scattershot ◊ Giga Inferno ◊
Clan Features
◊ The Bilderbergs ◊
Clash Champ Tools
◊ Never be Clanless Again ◊ Base Finder Tool ◊ I need a base update ◊ Never miss war attacks again ◊
Clash School Coaching
E-Sports
◊ Katowice, Poland ◊Tribe Gaming Disbanding ◊
General
◊  Becoming a Pro-Gamer ◊ How to be a Great Leader ◊ Staying Motivated  ◊ Custom Esport Jerseys  ◊ Advanced Builder Management  ◊
Hero's
◊ Royal Champion ◊
Spells
Troops
◊ Yeti ◊ Siege Barracks ◊
Update/Event News
◊ Global Gone◊ CoC Creator Boost ◊ Creator Boost Expires ◊ Jolly Barbarian Skin ◊
Upgrade Priorities / Guides
◊ Any New Town Hall ◊ Town hall 5 ◊ Town hall 6 ◊