Clash of Clans wrote:
Hello there!
Besides the upcoming upgrade costs reductions and Builder Base changes announced in the past weeks, we've got a few niceties for all the Town Hall 11 through Town Hall 13 players coming in the next update as well! We're adding an additional level to several Buildings, Troops, Defenses, and Spells. Furthermore, we're opening up an additional 50 Wall segments for Town Hall 13 players to upgrade their Walls from level 13 to 14.
Check out the super cool information below!
Troops
Spells
Additionally – Freeze Spell can be upgraded to Level 2 in the Laboratory at Town Hall level 9 (previously at TH10).
Buildings

Plus: you can now build a 3rd Dark Elixir Drill at Town Hall level 9 (previously TH10).
Defenses

Walls
Town Hall 13 players will be able to upgrade an additional 50 x Wall segments to Level 14.
– By the Clash of Clans Team
Looking for members, a clan or a base layout? We got you covered! Join in our fun tournaments to earn Champ Bucks to spend in the Rewards Store!
Join us on Clash School for all your coaching needs, where well known professionals are ready to guide you to be the best that you can be.
Love what we do? Support us by using creator code CLASH CHAMPS while making any in-game purchases.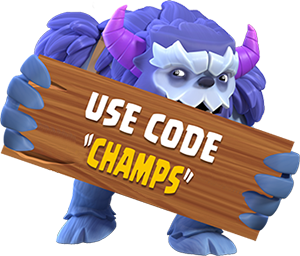 Other Clash Champ Articles You May Like:
Attack Strategy Guides
◊ Siege Barracks: 3-Star Guide ◊ Th9 Queen Charge Lavaloon Guide ◊
Base Building Guides
◊ Bradder's Th10 BB Guide ◊ Bradder's Th12 BB Guide ◊ Derpy & Scott TH10 BB Guide ◊ Derpy & Scott TH10 BB Guide – German ◊
Buildings
◊ Scattershot ◊ Giga Inferno ◊
Clan Features
◊ The Bilderbergs ◊ Mutant Tribe ◊
Clash Champ Tools
◊ Never be Clanless Again ◊ Base Finder Tool ◊ I need a base update ◊ Never miss war attacks again ◊
Clash School Coaching
E-Sports
◊ Katowice, Poland ◊Tribe Gaming Disbanding ◊
General
◊ Becoming a Pro-Gamer ◊ How to be a Great Leader ◊ Staying Motivated ◊ Custom Esport Jerseys ◊ Advanced Builder Management ◊
Hero's
◊ Royal Champion ◊
Spells
Troops
◊ Yeti ◊ Siege Barracks ◊
Update/Event News
◊ Global Gone◊ CoC Creator Boost ◊ Creator Boost Expires ◊ Jolly Barbarian Skin ◊ Spring Update Price Reductions ◊
Upgrade Priorities / Guides
◊ Any New Town Hall ◊ Town hall 5 ◊ Town hall 6 ◊