Clash of Clans wrote:
Today marks the 10th anniversary of Supercell!
Ten years. Five games. Hundreds of millions of players. Billions of unforgettable moments.
From the bottom of our hearts, we want to thank our players in all our games for making Supercell's first decade the best celebration on mobile!
Our CEO Ilkka Paananen wrote a blog post where he shared the 10+1 lessons we've learnt from our first decade! Read it here: https://supercell.com/en/news/10-learnings-10-years/7436/
Meanwhile, in Clash of Clans…
Celebrate Supercell's 10th anniversary with exclusive daily Trader deals, 80% off all Spell brewing, a special offer in the shop, and troops events! And don't forget to get your free Anniversary fountain decoration from the Season Challenges!
Clash on, Chief!
Clash Champs is the Premier Tournament League for Clash of Clans War Champions. It elevates Clash Wars to a whole new level by creating Tournaments utilizing the Clash of Clans War results.
Looking for members, a clan or a base layout? Are you looking for the best pro war bases to compete at the top levels? We got you covered! Join in our fun tournaments to earn Champ Bucks to spend in the Rewards Store!
Join us on Clash School for all your coaching needs, where well known professionals are ready to guide you to be the best that you can be.
Love what we do? Support us by using creator code CLASH CHAMPS while making any in-game purchases.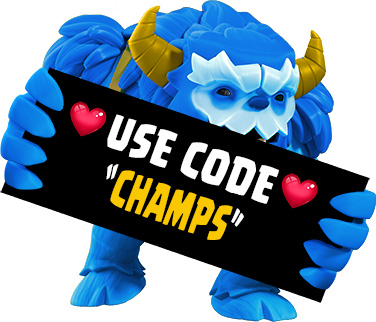 Other Clash Champ Articles You May Like:
Attack Strategy Guides
◊ Siege Barracks: 3-Star Guide ◊ Th9 Queen Charge Lavaloon Guide ◊
Base Building
◊ Buy Professional Base War Layouts ◊ Bradder's Th10 BB Guide ◊ Bradder's Th12 BB Guide ◊ Derpy & Scott TH10 BB Guide ◊ Derpy & Scott TH10 BB Guide – German ◊
Buildings
◊ Scattershot ◊ Giga Inferno ◊
Champs Elite
Clan Features
◊ The Bilderbergs ◊ Mutant Tribe ◊
Clash Champ Tools
◊ Never be Clanless Again ◊ Base Finder Tool ◊ I need a base update ◊ Never miss war attacks again ◊
Clash School Coaching
E-Sports
◊ Katowice, Poland ◊Tribe Gaming Disbanding ◊
General
◊ Becoming a Pro-Gamer ◊ How to be a Great Leader ◊ Staying Motivated ◊ Custom Esport Jerseys ◊ Advanced Builder Management ◊
Hero's
◊ Royal Champion ◊
Spells
Troops
◊ Yeti ◊ Siege Barracks ◊Sneaky Goblin ◊Super Giant ◊Super Wall Breaker ◊
Update/Event News
◊ Global Gone◊ CoC Creator Boost ◊ Creator Boost Expires ◊ Jolly Barbarian Skin ◊ Spring Update 2020 Price Reductions ◊ Spring Update 2020 New Upgrade Levels ◊ Super Troops Spring Update 2020 ◊
Upgrade Priorities / Guides
◊ Any New Town Hall ◊ Town hall 5 ◊ Town hall 6 ◊