#clashon #clashofclans
Clash of Clans wrote:
Before we display the next Clan Games rewards below, we also wanted to share some "balance" changes we made to the Clan Games to alter some of its functionalities. Here are the changes we've made:
The cooldown for trashing a Task will always now be a flat 10 minutes;
The Gem cost for speeding up the timer has been reduced from 3x to 1x;
Point rewards that require you to earn Stars using Builder Base Troops, win Builder Base battles, get Builder Base Stars, and get Builder Base destruction have been lowered;
Several Task types will now reward you with increased points but also have a very slightly less chance of appearing in the Task rotation:

Tasks requiring you to get Stars against a specific Town Hall level or a Town Hall level higher than your own.
The tasks that require you to get Stars without using Spells or Heroes.
Tasks that require you to win Titan League battles, earn Stars from Wars, or kill Heroes.

We also added a bunch of new tasks as well!
Time For The Rewards!
So without further ado….
Dates: May 22-28
Max points per player: 4000
Points needed for bonus tier: 4000
Clan Games Rewards:
Tier 1: 3000
Rewards: Training Potion (x1), Gems (x20), Elixir/Dark Elixir (20%)
Tier 2: 7500
Rewards: Resource Potion (x1), Power Potion (x1), Research Potion (x1)
Tier 3: 12000
Rewards: Clock Tower Potion (x1), Training Potion (x2), Gems (x50)
Tier 4: 18000
Rewards: Wall Ring (x6), Elixir/Dark Elixir (80%), Builder Potion (x1)
Tier 5: 30000
Rewards: Rune of Builder Gold (x1), Shovel of Obstacles (x1), Gold (100%)
Tier 6: 50000
Rewards: Rune of Gold (x1), Book of Building (x1), Gems (x100)
Boosted Tasks:
Wizard Tower Warfare
Dark Spell Factory Sabotage
Destroy Tesla Towers
Destroy Archer Queen Altars
Star Collector
Helping Hand
Donate Spells
Gardening Exercise
Elixir Challenge
Lava is Love
Boxer Giant Punch-Up
Baby Dragon Bamboozle
Night Witch Batocalypse
Archer Ambush
PEKKA Punch-Up
Witching Hour
Baby Dragon Storytime
Eagle Artillery Elimination
Laboratory Strike
Spell Factory Sabotage
Destroy Air Defenses
Dark Elixir Storage Raid
Lord of Destruction
Dark Elixir Heist
Mortar Mauling
Destroy Grand Warden Altars
Winning Streak
Gem Heist
No Heroics Allowed
Attack Up
King Level Hunter
Building Breakdown
Wall Whacker
Wall Wipe Out
Sudden Stars
Mullet Madness
Sneaky Shenanigans
The Greatest Giants
Get ready to earn some rewards Chief, the Clan Games are just around the corner! 
Clash on!
Clash Champs is the Premier Tournament League for Clash of Clans War Champions. It elevates Clash Wars to a whole new level by creating Tournaments utilizing the Clash of Clans War results.
Looking for members, a clan or a base layout? Are you looking for the best pro war bases to compete at the top levels? We got you covered! Join in our fun tournaments to earn Champ Bucks to spend in the Rewards Store!
Join us on Clash School for all your coaching needs, where well known professionals are ready to guide you to be the best that you can be.
Love what we do? Support us by using creator code CLASH CHAMPS while making any in-game purchases.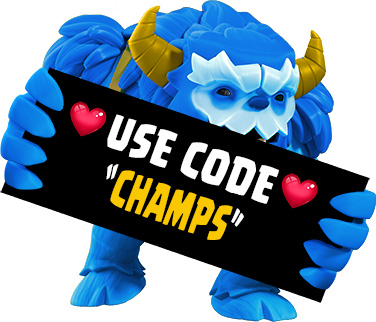 Other Clash Champ Articles You May Like:
Attack Strategy Guides
◊ Siege Barracks: 3-Star Guide ◊ Th9 Queen Charge Lavaloon Guide ◊
Base Building
◊ Buy Professional Base War Layouts ◊ Bradder's Th10 BB Guide ◊ Bradder's Th12 BB Guide ◊ Derpy & Scott TH10 BB Guide ◊ Derpy & Scott TH10 BB Guide – German ◊
Buildings
◊ Scattershot ◊ Giga Inferno ◊
Champs Elite
Clan Features
◊ The Bilderbergs ◊ Mutant Tribe ◊
Clash Champ Tools
◊ Never be Clanless Again ◊ Base Finder Tool ◊ I need a base update ◊ Never miss war attacks again ◊
Clash School Coaching
E-Sports
◊ Katowice, Poland ◊Tribe Gaming Disbanding ◊
General
◊ Becoming a Pro-Gamer ◊ How to be a Great Leader ◊ Staying Motivated ◊ Custom Esport Jerseys ◊ Advanced Builder Management ◊
Hero's
◊ Royal Champion ◊
Spells
Troops
◊ Yeti ◊ Siege Barracks ◊Sneaky Goblin ◊Super Giant ◊Super Wall Breaker ◊
Update/Event News
◊ Global Gone◊ CoC Creator Boost ◊ Creator Boost Expires ◊ Jolly Barbarian Skin ◊ Spring Update 2020 Price Reductions ◊ Spring Update 2020 New Upgrade Levels ◊ Super Troops Spring Update 2020 ◊ Supercell turns 10 ◊
Upgrade Priorities / Guides
◊ Any New Town Hall ◊ Town hall 5 ◊ Town hall 6 ◊