Clash Royale wrote:
Fantasy Royale is back at it for the 2020 Clash Royale League World Finals!
Get a FREE EMOTE and compete for GOLD by simply playing Fantasy Royale 👊👊
Starting Nov 24 – Dec 5, create a fantasy team inside the esports tab for your chance to win up to 100,000 Gold and qualify for a FREE EMOTE!
You must create a Fantasy Royale team before Dec 5 12pm (UTC+8), aka before the Clash Royale World Finals broadcast goes live, in order to qualify for the FREE EMOTE and the chance to compete for Gold rewards.
Check the World Finals countdown timer, regional broadcast times & more info here
For players in the Americas, note the timezone difference! The CRL World Finals take place on Dec 4 and 5 (8pm PST/11pm EST/10pm CST) and Dec 5 and 6 (1am BRT)
What is Fantasy Royale?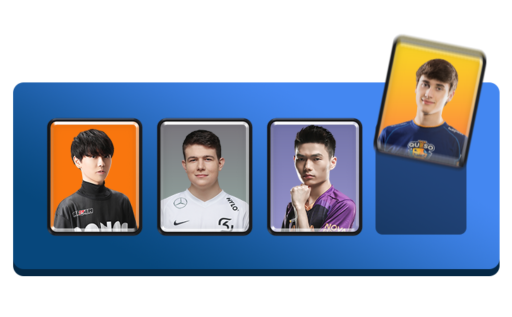 Scoring & Rewards
The goal: collect the most amount of Crowns possible.
How do I collect Crowns?
Select 4 CRL players to make up your fantasy team.
You'll get Crowns whenever a player from your fantasy team scores a Crown during the CRL World Finals.
Who gets rewards?
All Fantasy Royale players will get a FREE EMOTE just for playing!
What's the prize pool?
The top Crown scores will earn Gold, with the following prize pool distribution:
100,000 Gold for Top score
25,000 Gold for top 2-5 scores
10,000 Gold for top 6-10 scores
The prize distribution means the top 10 SCORES will earn Gold. For example, there could be thousands of players that get the #1 top score, meaning they'll all get 100,000 Gold each.
NOTE: Gold rewards will be delivered shortly after the CRL World Finals are over! It could take a few days, so please be patient!
The 2020 Clash Royale League World Finals will take place LIVE in Shanghai on December 5th and 6th at 12pm local Chinese Standard Time.
Dec 4th and 5th (8pm PST/11pm EST/10pm CST)
Subscribe and WATCH your team compete on: YouTube.com/EsportsRoyale and Twitch.tv/ClashRoyale
Follow & share your fantasy deck with us on Twitter: @EsportsRoyaleEN
See you in the CRL World Finals Arena,
The Clash Royale Team
About Us
Clash Champs is your premier esports News hub for Clash of Clans as well as an Official Tier 3 content creator for Supercell. We also provide tools for Recruiting, Base Downloads, Tournaments, War Notifications, and more.
So if you are looking for members, a clan or need a base layout, Clash Champs has it all! If you would rather want a one of a kind, freshly built War or Trophy base, check out our pro war bases. In fact, our team of 20+ pro builders are continuously and rigorously building and testing current meta bases for wars, leagues and trophy pushing. Join us on Discord for more information as well as to just chat.
When you join our fun tournaments, we rank and score you against other clashers from around the world. What is more, you earn Champ Bucks while doing something you love, Clashing! In short Champ Bucks is our way of giving back to the community. In fact, you can use your Champ Bucks on various items and gift cards in the Rewards Store. Furthermore, you could use your Champ Bucks to enter our weekly Clash Raffles for awesome prizes.
If you're looking to up your game with a Pro Coach then join Clash School for all your coaching needs. At Clash School, professionals are ready to teach and guide you to then be the best that you can be.
So do you love what we do? Then help support us by using creator code CLASH CHAMPS before making any in-game purchases.
Other Clash Champ Articles You May Also Like:
Attack Strategy Guides
◊ Siege Barracks: 3-Star Guide ◊ Th9 Queen Charge Lavaloon Guide ◊ How to Reach Guide: Attacking Higher Town Halls ◊
Base Building
◊ Champ Bases Defends at Worlds ◊ Buy Professional Base War Layouts ◊ Bradder's Th10 BB Guide ◊ Bradder's Th12 BB Guide ◊ Derpy & Scott TH10 BB Guide ◊ Derpy & Scott TH10 BB Guide – German ◊ Defend Th13 Meta Attacks ◊Clash Champs and RH Base Building have joined forces! ◊ CWL Pro Base Starter Pack – Limited Edition ◊Champ Bases & Burnt Base Exclusive New Partnership ◊
Brawl Stars
◊ Bug Fixes & Balance Changes ◊
Buildings
◊ Scattershot ◊ Giga Inferno ◊
Champs Elite
Clan Features
◊ The Bilderbergs ◊ Mutant Tribe ◊
Clash Champ Tools
◊ Never be Clanless Again ◊ Base Finder Tool ◊ I need a base update ◊ Never miss war attacks again ◊ Clash Raffles is Live! ◊
Clash Champs Pro Team & Matches
◊ Clash Champs Showmatch ◊ Clash Champs Goes Pro! ◊ Big Vale Invitational Tournament ◊
Clash School Coaching
E-Sports
◊ Katowice, Poland ◊ Tribe Gaming Disbanding ◊ Wildcard Teams: World Championships 2020 ◊ Wildcard Teams 2020: Results ◊Be a Part of the Clash World 2020 Finals ◊
General
◊ Becoming a Pro-Gamer ◊ How to be a Great Leader ◊ Staying Motivated ◊ Custom Esport Jerseys ◊ Advanced Builder Management ◊ Is Clash getting easier? ◊
Hero's
◊ Royal Champion ◊
Spells
Troops
◊ Yeti ◊ Siege Barracks ◊ Sneaky Goblin ◊ Super Giant ◊ Super Wall Breaker ◊ Super Witch and Inferno Dragon ◊ Headhunter ◊ Super Valkyrie ◊ Super Minion ◊
Update/Event News
◊ Global Gone◊ CoC Creator Boost ◊ Creator Boost Expires ◊ Jolly Barbarian Skin ◊ Spring Update 2020 Price Reductions ◊ Spring Update 2020 New Upgrade Levels ◊ Super Troops Spring Update 2020 ◊ Supercell turns 10 ◊ Summer Update 2020 Incoming new levels ◊ Summer Update 2020 QoL Improvements & Balance Changes ◊ Autumn Update 2020 Balance Changes ◊ Autumn Update 2020 New Levels & Other Game Changes ◊ Autumn Update 2020: Patch Notes ◊ Pirate Barbarian King Skin ◊ Optional Update October 2020 ◊ End of Support: Below iOs 10 and Android 4.4 ◊Sneak Peek: December 2020: Super Troop Changes and Super Potion ◊
Upgrade Priorities / Guides
◊ Any New Town Hall ◊ Town hall 5 ◊ Town hall 6 ◊