Clash of Clans wrote:
Meet The Teams!
The War for Ultimate Victory
After countless Clan War League victories, numerous Qualifier triumphs, and 2 Community votes, we now have the 8 Clans who will battle once and for all to determine who will be crowned the 2020 Clash of Clans World Champions! Beginning on November 27th, these 8 Clans will put their skills to the test and battle like they've never battled before in order to claim the grand prize along with their share of the $1,000,000 prize pool. The stakes have never been higher and the teams have been honing their attack strategies all year long. This clash worlds is an event you won't want to miss!
But before the grand melee begins, let's meet the 8 World Finalists!
ATN.aTTaX
An elite cadre of players from different teams who've banded together, Alternate aTTaX was the winner of the very first Qualifier of the year. Although they lost their first match against Tribe Gaming, they were able to win every other match and take hold of the first Golden Ticket.
Vatang
Finalists in the 2019 World Championship, this South Korean team is quite familiar with competing under pressure. Coming in with strong attacks and defense, this skilled group of players proved they still have their drive for victory by securing a Golden Ticket in their first try.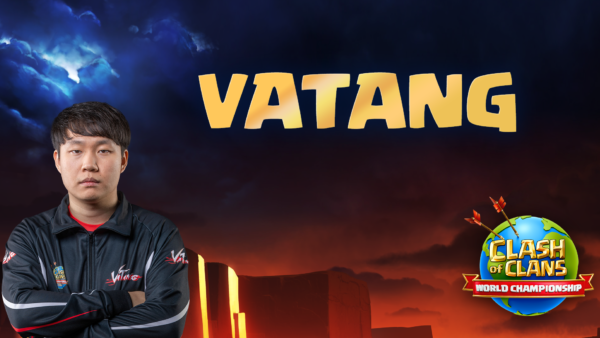 Ni Chang Dance
Possibly one of the biggest surprises of the season, Ni Chang Dance was relatively an unknown team who claimed the Golden Ticket at Qualifier #3 in their very first attempt! Showcasing an incredible talent for creative offensive strategies and a noteworthy high percentage hit rate, Ni Chang Dance is a team to keep an eye on!
x6tence
A team comprised of faces many would find familiar in the Clash esports scene. x6tence was able to claim 3rd place at the 2019 World Finals while representing Spanish-speaking countries with a roster mixed from Latin America and Spain. Known for their bravery, talent, and endless determination, they had only one chance to earn the Golden Ticket at Qualifier #4. Knowing they wouldn't make it to Qualifiers #5 and #6, the opportunity was not wasted as x6tence was able to secure their place at the Finals.
Darkest MuZhan
With World Championship MVP "Wei" on the team, it's no small wonder Darkest MuZhan was able to snag one of the Golden Tickets. Although they lost in the finals of Qualifier #1 to ATN.aTTaX, they came back even stronger by securing a win at Qualifier #5.
QueeN Walkers
Known for being a charismatic but humble crowd-favorite, this close-knit team of players hails from Japan. After struggling during the World Finals last year, the weight of expectation was quite heavy on the shoulders of QueeN Walkers this year, especially after failing to make it to the finals during Qualifier #3. However, the team showed its true colors and was able to eliminate INTZ during Qualifier #6 and will stand shoulder to shoulder with the other finalists.
eleVen Original
Team eleVen Original, one of the Community Wildcard winners, has been a frequent presence in the Clash Championship Qualifiers with competitive roots that extend far back into competitive Clash history. With a rabid fanbase who vehemently believe eleVen can take home the grand prize, we have no doubt this team will make a big splash at the Championship Finals!
H.T Family
H. T Family, the second Wildcard winner, made quite a showing when they brought their Electro Dragon attack meta and absolutely wrecked their enemy's bases during their Qualifier. Not only did this team show the world new ways to use everyone's favorite big blue Dragon, they lost during the Finals of Qualifier #3 in one of the most intense matches ever seen!
With the teams now properly introduced, let's take a look at the pairings. Each of the 8 teams will be divided into 2 different groupings, consisting of 4 teams per group. The winners of each match will move on to battle the teams who have won their matchups, eventually eliminating all of the competition until we have a final 2 Clans who will challenge one another for the grand finals.
Group A matchups
ATN.aTTaX vs H.T Family
x6tence vs Darkest MuZhan
Group B matchups
Vatang vs eleVen Original
Ni Chang Dance vs QueeN Walkers
Which teams will move on to the semi-finals is anyone's guess! With the grand prize and World Championship on the line, for the next 3 days we can expect to see some of the most intense Clashing the world has ever seen.
As an appetizer to tease your hunger for more, we've compiled some of the best moments from each team over the 2020 World Championship season
World Finals 2020 teaser
Want more? Then make sure you set a reminder by clicking on each of the livestream links so you don't miss a single nail-biting moment as the journey to crown this year's World Champions is about to begin!
We'll see you at the World Championship Finals!
About Us
Clash Champs is your premier esports News hub for Clash of Clans as well as an Official Tier 3 content creator for Supercell. We also provide tools for Recruiting, Base Downloads, Tournaments, War Notifications, and more.
So if you are looking for members, a clan or need a base layout, Clash Champs has it all! If you would rather want a one of a kind, freshly built War or Trophy base, check out our pro war bases. In fact, our team of 20+ pro builders are continuously and rigorously building and testing current meta bases for wars, leagues and trophy pushing. Join us on Discord for more information as well as to just chat.
When you join our fun tournaments, we rank and score you against other clashers from around the world. What is more, you earn Champ Bucks while doing something you love, Clashing! In short Champ Bucks is our way of giving back to the community. In fact, you can use your Champ Bucks on various items and gift cards in the Rewards Store. Furthermore, you could use your Champ Bucks to enter our weekly Clash Raffles for awesome prizes.
If you're looking to up your game with a Pro Coach then join Clash School for all your coaching needs. At Clash School, professionals are ready to teach and guide you to then be the best that you can be.
So do you love what we do? Then help support us by using creator code CLASH CHAMPS before making any in-game purchases.
Other Clash Champ Articles You May Also Like:
Attack Strategy Guides
◊ Siege Barracks: 3-Star Guide ◊ Th9 Queen Charge Lavaloon Guide ◊ How to Reach Guide: Attacking Higher Town Halls ◊
Base Building
◊ Champ Bases Defends at Worlds ◊ Buy Professional Base War Layouts ◊ Bradder's Th10 BB Guide ◊ Bradder's Th12 BB Guide ◊ Derpy & Scott TH10 BB Guide ◊ Derpy & Scott TH10 BB Guide – German ◊ Defend Th13 Meta Attacks ◊Clash Champs and RH Base Building have joined forces! ◊ CWL Pro Base Starter Pack – Limited Edition ◊Champ Bases & Burnt Base Exclusive New Partnership ◊
Brawl Stars
◊ Bug Fixes & Balance Changes ◊
Buildings
◊ Scattershot ◊ Giga Inferno ◊
Champs Elite
Clan Features
◊ The Bilderbergs ◊ Mutant Tribe ◊
Clash Champ Tools
◊ Never be Clanless Again ◊ Base Finder Tool ◊ I need a base update ◊ Never miss war attacks again ◊ Clash Raffles is Live! ◊
Clash Champs Pro Team & Matches
◊ Clash Champs Showmatch ◊ Clash Champs Goes Pro! ◊ Big Vale Invitational Tournament ◊
Clash School Coaching
Clash Royale
◊ Fantasy Royale – 2020 CRL World Finals! ◊
E-Sports
◊ Katowice, Poland ◊ Tribe Gaming Disbanding ◊ Wildcard Teams: World Championships 2020 ◊ Wildcard Teams 2020: Results ◊Be a Part of the Clash World 2020 Finals ◊
General
◊ Becoming a Pro-Gamer ◊ How to be a Great Leader ◊ Staying Motivated ◊ Custom Esport Jerseys ◊ Advanced Builder Management ◊ Is Clash getting easier? ◊
Hero's
◊ Royal Champion ◊
Spells
Troops
◊ Yeti ◊ Siege Barracks ◊ Sneaky Goblin ◊ Super Giant ◊ Super Wall Breaker ◊ Super Witch and Inferno Dragon ◊ Headhunter ◊ Super Valkyrie ◊ Super Minion ◊
Update/Event News
◊ Global Gone◊ CoC Creator Boost ◊ Creator Boost Expires ◊ Jolly Barbarian Skin ◊ Spring Update 2020 Price Reductions ◊ Spring Update 2020 New Upgrade Levels ◊ Super Troops Spring Update 2020 ◊ Supercell turns 10 ◊ Summer Update 2020 Incoming new levels ◊ Summer Update 2020 QoL Improvements & Balance Changes ◊ Autumn Update 2020 Balance Changes ◊ Autumn Update 2020 New Levels & Other Game Changes ◊ Autumn Update 2020: Patch Notes ◊ Pirate Barbarian King Skin ◊ Optional Update October 2020 ◊ End of Support: Below iOs 10 and Android 4.4 ◊Sneak Peek: December 2020: Super Troop Changes and Super Potion ◊
Upgrade Priorities / Guides
◊ Any New Town Hall ◊ Town hall 5 ◊ Town hall 6 ◊