Clash Royale wrote:
Learn more about the decks you will use, or face, in the Classic Decks Challenge!
CLASSIC LOGBAIT
As the name suggests, you need to bait small spells with your low Elixir cost units (Goblin Gang, Princess, Goblin Barrel) while inflicting small but continuous damage to your opponent's Towers. Then, you finish him off with the Rocket.
GOLEM BEATDOWN
This deck is all about building a great push. Golem in front, other units in the back! Timings and placements are important, as the deck is costly in Elixir.
LAVALOON
This one works pretty much like the Golem Beatdown but in the air. Build your push with the Lava Hound in front, Baloon in the back!
MEGA GOBLINS
This is another deck where your goal is to bait spells and to take your opponent's Towers by cycling your low Elixir cost units and inflicting small damage until it falls. The Mega Knight is here to help your defense.
P.E.K.K.A RAM
The deck is all about counter pushing and putting some pressure directly at the bridge! It's a bit heavy on Elixir, be careful not to spend too much on defense.
PIGS ON PARADE
The strength of the deck is the ability to put pressure on both Towers by splitting your push. But watch out: you don't have any big spell!
ROYALE GIANT FISHER
With its relatively low cost in Elixir, this deck allows you to quickly apply pressure with the Royale Giant while keeping him alive with the support of the Fisherman and Hunter!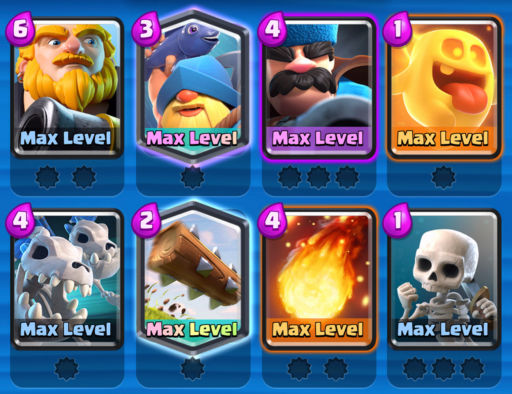 SPARK THE GOBLIN
The goal is simple: hit the Towers with Sparky. The deck is the most expensive in Elixir, play smart and don't overspend!
Good luck in the Challenge and see you in the Arena!
About Us
Clash Champs is your premier esports News hub for Clash of Clans as well as an Official Tier 3 content creator for Supercell. We also provide tools for Recruiting, Base Downloads, Tournaments, War Notifications, and more.
So if you are looking for members, a clan or need a base layout, Clash Champs has it all! If you would rather want a one of a kind, freshly built War or Trophy base, check out our pro war bases. In fact, our team of 20+ pro builders are continuously and rigorously building and testing current meta bases for wars, leagues and trophy pushing. Join us on Discord for more information as well as to just chat.
When you join our fun tournaments, we rank and score you against other clashers from around the world. What is more, you earn Champ Bucks while doing something you love, Clashing! In short Champ Bucks is our way of giving back to the community. In fact, you can use your Champ Bucks on various items and gift cards in the Rewards Store. Furthermore, you could use your Champ Bucks to enter our weekly Clash Raffles for awesome prizes.
If you're looking to up your game with a Pro Coach then join Clash School for all your coaching needs. At Clash School, professionals are ready to teach and guide you to then be the best that you can be.
So do you love what we do? Then help support us by using creator code CLASH CHAMPS before making any in-game purchases in ANY Supercell game.

Other Clash Champ Articles You May Also Like:

Attack Strategy Guides

Base Building

Brawl Stars

Buildings

Champs Elite
Clan Features

Clash Champ Tools

Communities News/Events

Clash Champs Pro Team & Matches

Coaching: Clash School – Coaches

Clash Royale

E-Sports

General

Hero's
Partner Program

Spells

Troops

Update/Event News

Upgrade Priorities / Guides