Clash Royale wrote:
Unlock rewards by earning Crowns from destroyed Towers! Get Pass Royale to unlock unique Season 27 rewards & perks, breakdown below:
PASS ROYALE REWARDS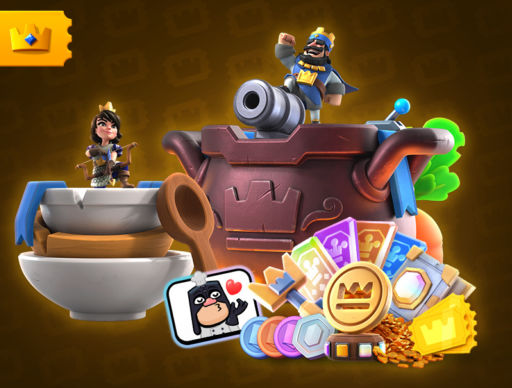 Unique Kitchen Tower Skin & Executioner Chef's Kiss emote
1 Book of Books (completely fills a card's upgrade progress)
1 Magic Coin (free card upgrade)
2 Chest Keys (opens any chest in your Chest Slot instantly)
1 Legendary Wild Card
Epic Wild Cards
Rare Wild Cards
Common Wild Cards
40,000 Gold
4 Trade Tokens
Bonus Bank Gold (up to 25,000 Gold)
Pass Royale owners also get unlimited entries to Special Challenges, an exclusive GOLDEN NAME and can queue chests to open!
FREE REWARDS
Don't have Pass Royale? You can earn the following FREE rewards:
1 Rare Book of Cards
10 Epic Wild Cards
20 Rare Wild Cards
100 Common Wild Cards
2 Chest Keys
25 Crown Chests (contains Gems & cards of any rarity)
1 LEGENDARY WILD CARD
The above rewards apply to players in Arenas 7+. PASS ROYALE OWNERS CAN ALSO COLLECT THE FREE REWARDS!
Above rewards apply to players in Arenas 7+
Rewards for players in Arenas 4-6 can be checked in-game!
WOULD YOU LIKE TO KNOW MORE?
TAP HERE for more information and see the most frequently asked Pass Royale questions!
About Us
Clash Champs is your premier esports News hub for Clash of Clans as well as an Official Tier 3 content creator for Supercell. We also provide tools for Recruiting, Base Downloads, Tournaments, War Notifications, and more.
So if you are looking for members, a clan or need a base layout, Clash Champs has it all! If you would rather want a one of a kind, freshly built War or Trophy base, check out our pro war bases. In fact, our team of 20+ pro builders are continuously and rigorously building and testing current meta bases for wars, leagues and trophy pushing. Join us on Discord for more information as well as to just chat.
When you join our fun tournaments, we rank and score you against other clashers from around the world. What is more, you earn Champ Bucks while doing something you love, Clashing! In short Champ Bucks is our way of giving back to the community. In fact, you can use your Champ Bucks on various items and gift cards in the Rewards Store. Furthermore, you could use your Champ Bucks to enter our weekly Clash Raffles for awesome prizes.
If you're looking to up your game with a Pro Coach then join Clash School for all your coaching needs. At Clash School, professionals are ready to teach and guide you to then be the best that you can be.
So do you love what we do? Then help support us by using creator code CLASH CHAMPS before making any in-game purchases in ANY Supercell game.

Other Clash Champ Articles You May Also Like:

Attack Strategy Guides

Base Building

Brawl Stars

Buildings

Champs Elite
Clan Features

Clash Champ Tools

Communities News/Events

Clash Champs Pro Team & Matches

Coaching: Clash School – Coaches

Clash Royale

E-Sports

General

Hero's
Hero Skins
Partner Program

Spells

Troops

Update/Event News

Upgrade Priorities / Guides