Clash of Clans wrote:
Hey Chief!
We're kicking off this first round of sneak peeks with a huge reveal: Town Hall 15 is coming! We know you've been anxiously waiting to see what this next Town Hall will look like, so wait no more! We've got a lot of content to cover over the next week of previews. It's looking to be the biggest Town Hall content update we've ever done so hold on to you hats, Chiefs.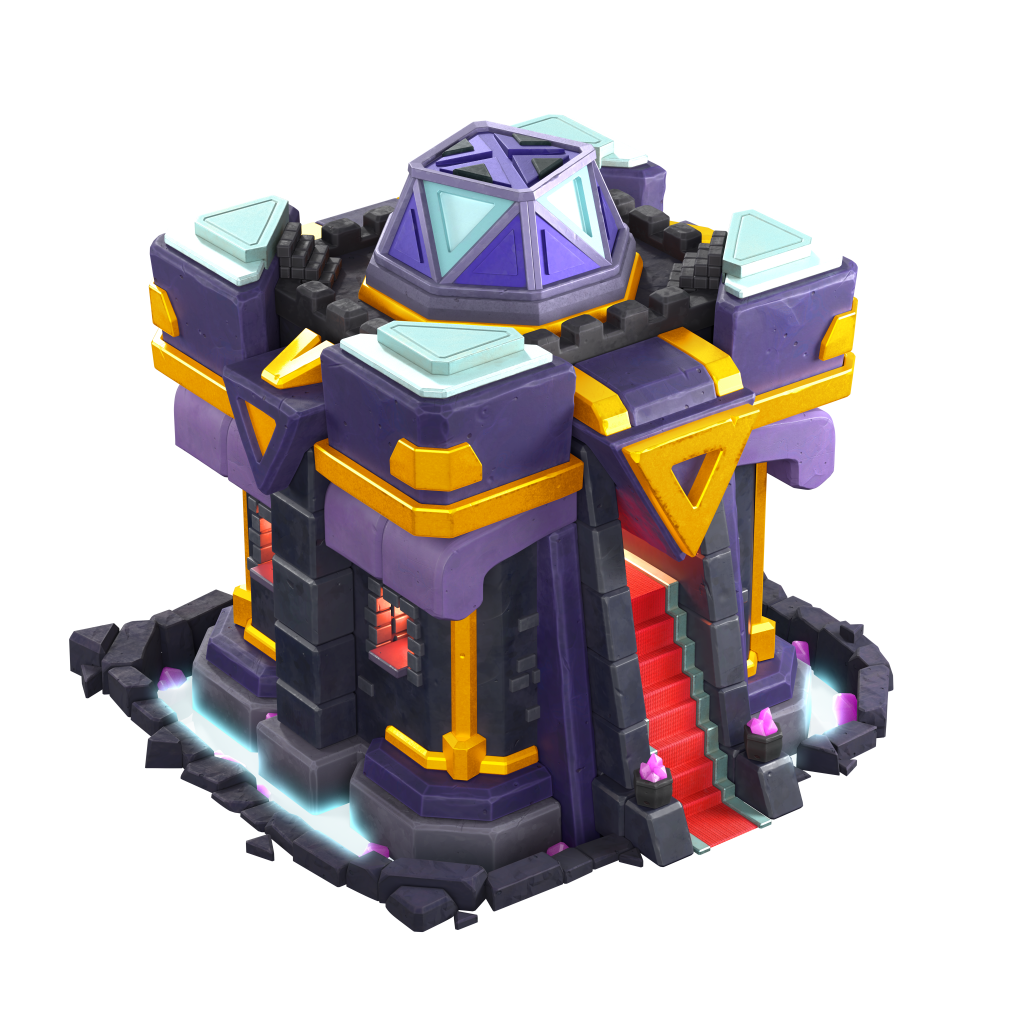 There's Magic In the Air
Town Hall 15's magic theme is apparent throughout all of the update's new designs. Arcane symbols are interlaced throughout every nook and cranny of the new building levels, Hero Skins, Troop Levels, and more. So let's take a look at the new Town Hall 15.
Town Hall 15
While Town Hall 15 does not have a unique signature defensive weapon, its Giga Inferno can be upgraded several times to make it even more powerful than before. But don't worry, we've got plenty of tricks up our sleeves as you'll see over the coming previews.
Town Hall 15 Giga Inferno
Building/Defense Levels
When you've upgraded your Town Hall to level 15, you'll also unlock numerous upgrades for your Home Village. The following Buildings and Defenses can be upgraded once your Town Hall is level 15.
Defenses
Storages
Clan Castle
Barracks
Army Camp
Laboratory
Spell Factory
Siege Workshop
Pet House
Walls
Traps
Hero Levels
Each Hero will be able to be upgraded with 5 additional levels at Town Hall 15.
Barbarian King
Barbarian King Ability Level 17
Archer Queen
Archer Queen Ability Level 17
Grand Warden
Grand Warden Ability Level 12
Ability Time: 8.75 seconds
Royal Champion
Royal Champion Ability Level 7
Troops
Super Troops
Several Super Troops will also have their stats increased when their normal mode has been upgraded.
Spells
Lightning Spell
Heal Spell
Jump Spell
Poison Spell
Bat Spell
Upgrade Time & Cost Reductions
As part of refactoring and balancing upgrade costs, with the introduction of Town Hall 15 we've reduced the upgrade costs and upgrade times of numerous units, defenses, and buildings.
Building/Defense/Trap Upgrade Time & Cost Reductions
Town Hall Weapon Upgrade Time & Cost Reductions
Unit Upgrade Time & Cost Reductions
Hero Upgrade Time & Cost Reductions
Spell Upgrade Time & Cost Reductions
Stay tuned for tomorrow. Something monolithic will spell doom for your enemies…
About Us
Clash Champs is your premier esports News hub for Clash of Clans as well as an Official Tier 3 content creator for Supercell. We also provide tools for Recruiting, Base Downloads, Tournaments, War Notifications, and more.
So if you are looking for members, a clan, or need a base layout, Clash Champs has it all! If you would rather want a one-of-a-kind, freshly built War or Trophy base, check out our pro-war bases. In fact, our team of 20+ pro builders is continuously and rigorously building and testing current meta bases for wars, leagues, and trophy pushing. Join us on Discord for more information as well as to just chat.
When you join our fun tournaments, we rank and score you against other clashers from around the world. What is more, you earn Champ Bucks while doing something you love, Clashing! In short, Champ Bucks is our way of giving back to the community. In fact, you can use your Champ Bucks on various items and gift cards in the Rewards Store. Furthermore, you could use your Champ Bucks to enter our weekly Clash Raffles for fabulous prizes.
If you're looking to up your game with a Pro Coach, then join Clash School for all your coaching needs. At Clash School, professionals are ready to teach and guide you to be then the best that you can be.
So do you love what we do? Then help support us by using creator code CLASH CHAMPS before making any in-game purchases in ANY Supercell game.

Other Articles You May Also Like
Attack Strategy Guides

Base Building

Brawl Stars

Buildings

Champs Elite
Clan Features

Clash Champ Tools

Communities News/Events

Clash Champs Pro Team & Matches

Coaching: Clash School – Coaches

Clash Royale

E-Sports

General

Hero's
Hero Skins
Partner Program

Spells

Troops

Update/Event News

Upgrade Priorities / Guides