@ClashSchool @echothrume @carbonfingaming @real_cpt_n3m0 @champmangaming1 #clashon #clashofclans
Clash School is LIVE! And it is HUGE! Clash School's focus is on Esport Mobile Game Coaching and aims to provide the best coaches to help players to be at the top of their game.
The Idea: Esports Mobile Coaching
It all started many years ago when Clash Champs' creator and owner, Agester, wanted to improve his game at Clash of Clans. While looking for a place that was a treasure trove of resources with guides, tutoring or some type of coaching service to help improve his gameplay and finding none, the idea of purchasing ClashSchool.com was born. However, having little kids at the time and not having the connections he decided to put the idea on ice.
Without action you aren't going anywhere.

Mahatma Gandhi
With the introduction of the Clash of Clans World Championships in 2019, many players started searching for some sort of coaching platform and yet there still was none to be found. And thus Clash School was finally brought to life. After months of hard work and dedication Clash School's coaches are ready to help you be the best you can be.
You miss 100% of the shots that you don't take.

Wayne Gretzky
What Clash School offer
Clash School is currently offering coaching sessions in Clash of Clans, Clash Royale, Brawl Stars, PUBG Mobile and COD Mobile. From well known content creators to pro players, Clash School has it all! The knowledge, support, wisdom and professional coaches to help every gamer reach the next level. The Coaches at Clash School are the best in the world. Each coach is specifically recruited based on their experience, reputation, personality, and credentials. Clash School's live online lessons bring the best talent from around the world right to your desktop or mobile device.
Success is no accident. it's hard work, perseverance, learning, studying, sacrifice and most of all LOVE of what you are doing

Pele, Brazilian Athlete
Want to master a certain technique or skill? Ready to go pro? No matter your goal, Clash School's coaches can help you get there.
Watch the reveal on the Spring Trap Show, featuring Carbonfin, Cpt_N3m0, Echo and Agester. Subscribe to Clash School on Youtube, and follow them on Twitter to learn how you can be the best version of YOU!
Do or do not. There is no try.

Yoda
Looking for members, a clan or a base layout? We got you covered! Join in our fun tournaments to earn Champ Bucks to spend in the Rewards Store!
Love what we do? Support us by using creator code CLASH CHAMPS while making any in-game purchases.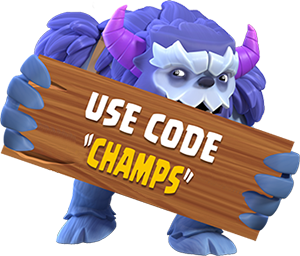 Other Clash Champ Articles You May Like:
Attack Strategy Guides
◊ Siege Barracks: 3-Star Guide ◊ Th9 Queen Charge Lavaloon Guide ◊
Base Building Guides
◊ Bradder's Th10 BB Guide ◊ Bradder's Th12 BB Guide ◊ Derpy & Scott TH10 BB Guide ◊ Derpy & Scott TH10 BB Guide – German ◊
Buildings
◊ Scattershot ◊ Giga Inferno ◊
Clan Features
◊ The Bilderbergs ◊
Clash Champ Tools
◊ Never be Clanless Again ◊ Base Finder Tool ◊ I need a base update ◊ Never miss war attacks again ◊
E-Sports
◊ Katowice, Poland ◊Tribe Gaming Disbanding ◊
General
◊ Becoming a Pro-Gamer ◊ How to be a Great Leader ◊ Staying Motivated ◊ Custom Esport Jerseys ◊
Hero's
◊ Royal Champion ◊
Troops
◊ Yeti ◊ Siege Barracks ◊
Update/Event News
◊ Global Gone◊ CoC Creator Boost ◊ Creator Boost Expires ◊ Jolly Barbarian Skin ◊
Upgrade Priorities / Guides
◊ Any New Town Hall ◊ Town hall 5 ◊ Town hall 6 ◊