#clashon #clashofclans #probases
Clash Champs is the leader when it comes to base designs and layout inventory, covering war, farm and fun bases. Now we also have CUSTOM PRO WAR BASE LAYOUTS!! That's right! We have some of the best pro builders in the game, designing and building professional war base layouts for you at the most affordable prices.
Champ Base Builders are the best in the world! Our base building team consists of 9 Professional Builders, 6 of whom are contracted to also build for Professional E-Sport outfits. 3 also had their bases featured live at offline finals in Katowice, Poland on the big stage at Supercell's inaugural E-Sport season (Year 1 – 2019) streamed to 1 million+ people.
The Professional Builders at Clash Champs have been building together and collaborating on base builds for up to 3 years. The team also understands the complexities of what it takes to build the most effective base layout. Each builder has years of experience of building and also competing with the very best teams on the main stage. Our team tests and tries each base design until everyone approves its craftsmanship.
Together they came up with starter packs and clan packs. These combination deals are monthly fresh builds, available for a limited period of time, the packs are affordable and the best deals for your money.
Our starter base packs range from Town Hall 9 to Town Hall 13, so you can buy packs that suit your needs. All the builds in the starter base packs are tested rigorously by our highly experienced team. Only bases that meet the exceptional high standards of our team of builders gets added to a starter pack. Planning attacks against these Clash of Clans pro bases are difficult and the execution or such attacks even more so.
Clan base packs are fresh, monthly builds for sale only for a limited period of time. Do you have a range of Town Halls amongst your squad? Or how about testing our builds at each level to decide whether you want more of a specific town hall perhaps? This pack is a great addition to any team running more than one town hall level.
Our builders have experience at many town hall levels and can get you a solid starting place for you and your squad with this clan boosting base design pack. Tested rigorously only the best designs are selected for the clan base packs. We cover most town hall levels in Clash of Clans and the clan pack includes builds on Town Hall 9, 10, 11,12 as well as Town Hall 13.
If you're looking to take the next step in your competition, why not buy a custom pro war base layout from our professional base builders. Custom bases are unique and built specifically for a purpose. You can even choose what type of base you'd like or what you think it absolutely needs to defend against.
You'll be the only person that receives this custom pro base. Our team collaborates while designing these custom pro bases. Then we test the bases thoroughly to ensure that they meet our base builders' exceptionally high standards. Custom bases really are the best in the world at the time of purchase and if you need to win, they're worth every penny. We are so sure of the quality of our builds, that we offer an optional insurance policy on pro war bases.
Clash Champs is the Premier Tournament League for Clash of Clans War Champions. It elevates Clash Wars to a whole new level by creating Tournaments utilizing the Clash of Clans War results.
Looking for members, a clan or a base layout? We got you covered! Join in our fun tournaments to earn Champ Bucks to spend in the Rewards Store!
Join us on Clash School for all your coaching needs, where well known professionals are ready to guide you to be the best that you can be.
Love what we do? Support us by using creator code CLASH CHAMPS while making any in-game purchases.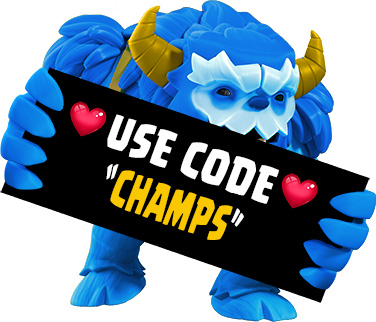 Other Clash Champ Articles You May Like:
Attack Strategy Guides
◊ Siege Barracks: 3-Star Guide ◊ Th9 Queen Charge Lavaloon Guide ◊
Base Building Guides
◊ Bradder's Th10 BB Guide ◊ Bradder's Th12 BB Guide ◊ Derpy & Scott TH10 BB Guide ◊ Derpy & Scott TH10 BB Guide – German ◊
Buildings
◊ Scattershot ◊ Giga Inferno ◊
Champs Elite
Clan Features
◊ The Bilderbergs ◊ Mutant Tribe ◊
Clash Champ Tools
◊ Never be Clanless Again ◊ Base Finder Tool ◊ I need a base update ◊ Never miss war attacks again ◊
Clash School Coaching
E-Sports
◊ Katowice, Poland ◊Tribe Gaming Disbanding ◊
General
◊ Becoming a Pro-Gamer ◊ How to be a Great Leader ◊ Staying Motivated ◊ Custom Esport Jerseys ◊ Advanced Builder Management ◊
Hero's
◊ Royal Champion ◊
Spells
Troops
◊ Yeti ◊ Siege Barracks ◊Sneaky Goblin ◊Super Giant ◊Super Wall Breaker ◊
Update/Event News
◊ Global Gone◊ CoC Creator Boost ◊ Creator Boost Expires ◊ Jolly Barbarian Skin ◊ Spring Update 2020 Price Reductions ◊ Spring Update 2020 New Upgrade Levels ◊ Super Troops Spring Update 2020 ◊
Upgrade Priorities / Guides
◊ Any New Town Hall ◊ Town hall 5 ◊ Town hall 6 ◊